ZOAR Mennonite Brethren Church
400 S. Walnut, PO Box 126, Inman, KS 67546
620-585-6999
Zoar Mennonite Brethren Church awaits the arrival of our next lead pastor, a man of God who will shepherd our congregation into a renewed season of ministry and share our vision of connecting people to an everyday Gospel, each other, and our community
Who We Are
The purpose of our church is to transform lives with the power of the Gospel of Jesus through the process of ministry that engages both believers and those who are seeking a relationship with God through worship, discipleship, serving, evangelism, and fellowship.
We are a diverse group of believers in Jesus Christ, walking together on a journey of faith. We are teachers, farmers, businessmen, homemakers, and people of many other occupations. As different as we are, we hold the common belief that the Bible is God's Word, and it gives us direction for how to live our lives.
We believe that a personal relationship with Jesus is the only way to experience eternal life with God the Father. Through the death, burial, and resurrection of Jesus, we are able to have a relationship through faith in which the Holy Spirit lives in us. We know that we are sinful people and we rely on God's daily grace and forgiveness in order to have this personal relationship.
Zoar is affiliated with the Southern District Conference of Mennonite Brethren Churches, which is part of the larger U.S. Conference of Mennonite Brethren Churches. Visit www.zoarmb.org/watch or the Zoar MB Facebook page to learn more or to attend an online service.
About Inman
Established in 1887, Inman, Kansas is a rural community of 1,200, located between Hutchinson and McPherson and an easy 50-minute drive from Wichita. People choose to live in Inman for a slower-paced personal life, small-town values, and quality schools. Inman has many amenities of a larger town, including a public library, wellness center, doctor's clinic, dentist, nursing home, two banks, two parks, shopping and eating establishments.
Life enriching opportunities abound within the community. Five local churches are united by the Inman Ministerial Alliance, and the museum, senior citizen center, and various clubs host recreational activities throughout the year. Inman Elementary and Junior-Senior High Schools are classified 2A by the Kansas State High School Activities Association, with an average of 40 students per grade level. Go Teutons!
www.inmanks.org https://censusreporter.org/profiles/16000US2034275-inman-ks/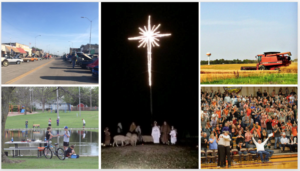 Left: Annual car show and fishing derby; Center: Annual live Nativity; Right: Wheat harvest & Teuton pride at a basketball game
Preparing for a New Pastor
In February of 2021, Pastor Dwight Carter announced his resignation as pastor of Zoar MB Church. His decision to step away from ministry after 19 years–12 as lead pastor, was difficult for him and for us, so we sought the help of the Southern District Conference to guide us through the transition. Interim Pastor Al Magnuson stepped in on May 1, 2021, and began leading us according to Interim Pastor Ministries (IPM) guidelines. We formed a transition team to examine our strengths and weaknesses and a Pastor Search Team to assess our current leadership structure before searching for a pastor. Zoar is a church with congregational governance, led by a representative council elected by the congregation. We are currently in the process of restructuring to improve our accountability, communication, and responsiveness to the needs of the congregation.
Greatest Strengths: Zoar is blessed with a strong heritage and a core of mature, committed believers who have faithfully worshipped and served together for many years. We tend to have relatively long pastor tenures, averaging ten years, with few transitions. A recent congregational exercise identified our core values: children and youth, Bible knowledge, giving, tradition, and world missions. Additionally, we identified our aspirational values: prayer, lost people/cultural relevance/evangelism, grace oriented/loving relationships, and small groups.
Worship
We believe that gathering together as the Body of Christ for worship is the greatest privilege we have as God's people. Our worship services include a blended style of music, contemporary Biblical messages, and warm fellowship. Throughout the year, we celebrate special times of worship through communion, Christmas services, testimony services, baptisms, and missions festivals.
Relationships
Kingdom Kids Sunday School, Children's Church, TeamKID
Cross Training Youth Ministry: Discipleship training for junior high and high school students
Discipleship Hour: Sunday school classes for all age groups
Men's and Women's Bible studies
Sisters Ladies Ministry: Social and spiritual activities throughout the year
Men's Fellowship: Fishing trips, prayer breakfasts, service projects
Church Events: Potluck dinners, cookouts, family camp, sunrise service
Outreach and Missions: Community VBS, Serve Week, mission trips, missionary support
Qualifications & Expectations
The Lead Pastor must be a born-again believer actively walking in fellowship with the Lord. He must be open to the Holy Spirit's direction and sense God's call to the ministry. He should love people and desire to build them up to their greatest spiritual potential and demonstrate the skills and interests necessary for the task.
The Lead pastor shall set the example of godly living (I Tim. 3:1-7, 4:12-16, and II Tim. 4:1-4). He shall be able to teach and preach the eternal and unchanging Word of God. He shall be in agreement with the Constitution and Confession of Faith of the U.S. Conference of Mennonite Brethren Churches and have completed the Ministry Questionnaire of the Southern District Conference. He shall support the vision, purpose, doctrine and policies of this church.
The Lead Pastor's main responsibilities shall be to communicate God's Word, minister to spiritual needs, and provide Biblical leadership for the church. He shall have a passion for discipleship and a willingness to guide a congregation through a transition in leadership and develop a culture of active participation in ministry and spiritual growth in the congregation. He shall have a willing heart to delegate responsibilities and work together as a team for the benefit of the church. (See Zoar MB Church Lead Pastor Job Description for further details.)